Ground breaking partnerships
We design homes for city makers
---
We firmly believe in creating the right partnerships. We look for partners who share our ambition to push boundaries and do things differently.
We are proud to have support from both the public and private sectors, helping us to deliver homes for London's city makers.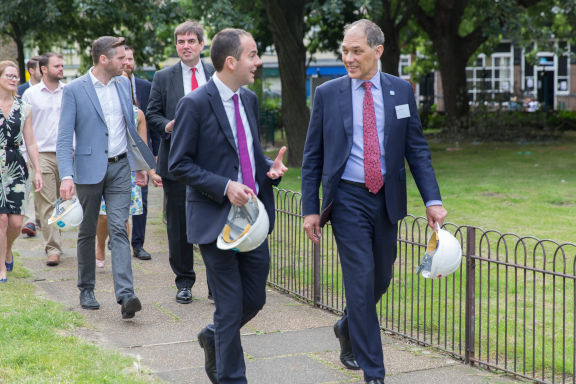 " I invested in Pocket Living to help them build genuinely affordable homes that are sold to local people first."
In 2017 the Mayor of London invested £25m in Pocket from the Mayor's Innovation Fund to boost new factory-built affordable homes for first-time buyers in the capital.
This will see Pocket start on 1,059 new homes by March 2021, with a third expected to be built using modern methods of construction.
The Mayor's funding will help finance site purchases and will be paid back in full by the end of the next decade.
The Mayor is supporting innovative schemes like this as he believes off-site construction is a key tool to tackle London's housing crisis and gettng homes built more quickly.
In 2017, Pocket Living struck a new partnership with Homes England to further help in the company's efforts to deliver affordable homes for Londoners. The partnership came about as part of a landmark deal involving both the GLA and Lloyds Bank Commercial Banking, to provide construction finance. The relationship with Homes England expands the collaboration between the public and private sectors to deliver much needed homes in London.
Homes England Chief Executive Nick Walkley said: "This deal is an important contribution to much-needed affordable housing in London. By lending £33.5 million from the Government's Home Building Fund, Homes England is helping to unlock the construction of new homes, giving first-time buyers in London a real chance to get their foot on the housing ladder."
In 2018, Pocket Living agreed a new partnership with Transport for London to deliver 100% affordable housing on TfL land.
The Mayor's Transport Strategy includes plans to create opportunities for new homes. London needs 65,000 new homes every year to meet demand, and TfL's commitment to delivering social rented and other genuinely affordable housing on sites it is releasing for residential development is one part of the Mayor of London's work to tackle London's housing crisis.
Graeme Craig, Director of Commercial Development at Transport for London, said: 'Pocket Living is building a great reputation for high quality, genuinely affordable housing for first-time buyers, and will help us develop sites that would not otherwise come forward.
'This partnership marks another important step in us assembling the most important development pipeline in London - building thousands of social rented and other genuinely affordable homes across the capital and generating hundreds of millions of pounds to reinvest in the transport network.'
Related Companies is a pioneering real estate company based in New York. Related has a long history in affordable housing, and believes passionately in the transformation of urban life through the built environment and cultural experiences.
Affordable housing laid the foundations for Related, it has developed or acquired over 55,000 affordable homes in the U.S. and has a strong heritage of partnering with innovative organisations committed to constructing or preserving affordable housing.
In 2015 Related Companies completed the first phase of Hunters Point South – a new neighbourhood for New Yorkers on moderate incomes who are not being served by existing low-income housing programmes. All 925 apartments are permanently affordable to people on low, moderate and middle incomes including teachers, police officers, fire fighters and nurses.
Related's commitment to affordable housing is however, just one part of a much wider strategy to transform urban life through iconic design of residential and commercial real estate, supported by leading wellness, cultural and culinary experiences.
The Related family of companies boasts a wealth of wellness brands such as Equinox gyms and Soul Cycle, cultural establishments like The Shed at Hudsons Yards and Jazz at the Lincoln Centre and many famous dining and retail experiences.
The strategic investment in Pocket Living reflects the belief that urban life can be enhanced through innovation, and Pocket will draw upon Related's access to capital, scale and expertise to deliver more affordable homes to London.