Over the coming months Lizzie from Small Space People is blogging for us, bringing lots of tips and ideas for living small and decor inspiration. Her blog is all about making your small home your own in clever, crafty ways.
---
Making a small space feel bigger is something that you've probably really struggled with at some point…I know I have. It's a massive pain that you want to have a huge living room with a giant corner sofa and loads of bookcases, but we all know that when you live small, that's just a distant dream.
Short of moving to Lincolnshire and commuting to London (and who wants to do that?!), there ain't much that you can do about your big house dreams unless you win the lottery, but there are plenty of ways to make a little home feel more open, bright and airy, but mainly bigger than it actually is.
Now, you know…I'm not a massive fan of rules or stuff like that. Generally I think, if you like it, go for it. But this stuff WORKS people. Honest! I've got evidence from pinterest and everything…
1. GET LEGGY
Buy furniture with legs – no more sofa skirts thank you very much (bleugh, anyway)! When your furniture is on legs it can sit off the ground a bit, to enable the light to flow around and create a sense of more space.
Like this – imagine if those chairs on the left were blocky and chunky. The light flows through and around and makes the whole room feel more spacious and balanced: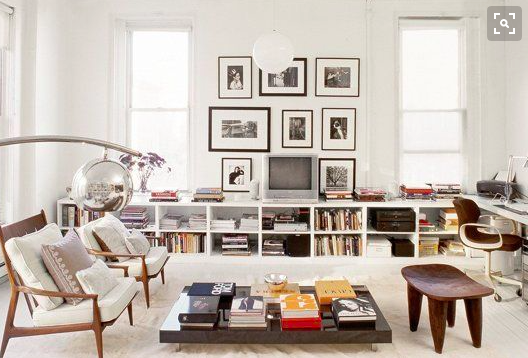 And in this room, a grey sofa which could be quite heavy is much lighter with those more delicate legs (it's also an Ikea hack – they've made a cheeky little update to the legs from a simple Karlstad):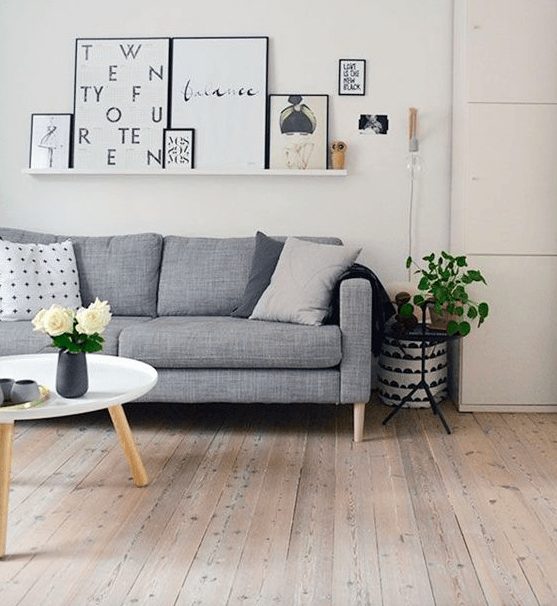 2. GET LOW
If you don't fancy going all Kate Moss, another great way to make things seem more spacious (especially if you've got lower ceilings) is to have furniture that's low to the ground, creating more space up above.
I loved this example of a low down, yet still big and lounge-y sofa in a narrow room. It's comfy and cosy, and it also creates loads of space above (and shows off the window nicely to let lots of light in):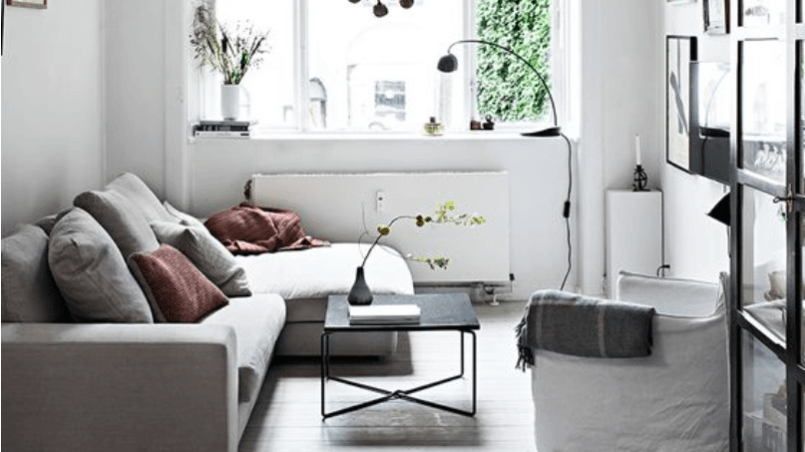 And check out this long low console table which makes this room feel super sleek, while being totally practical as well: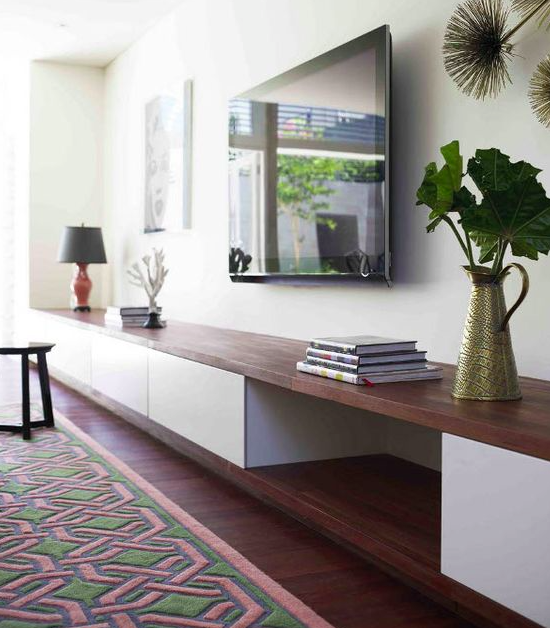 3. BOUNCE LIGHT AROUND
Getting plenty of natural light into the room will make things feel much bigger…no brainer. But how? Using mirrors opposite a window, doorway or towards an area that doesn't get much light can double the size of a room.
Like this example – this room is actually much smaller than it looks! But the gigantic floor mirror floods the room with light and brings so much more space: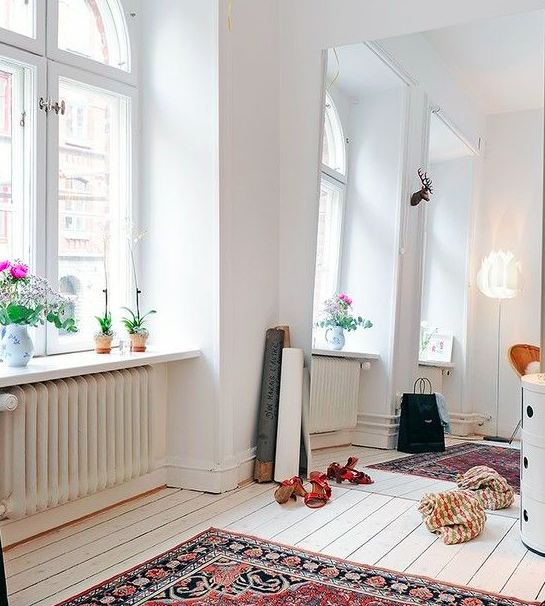 And this room is looking pretty sweet with the antique mirror which gives a new dimension to the different textures in the room. Love it!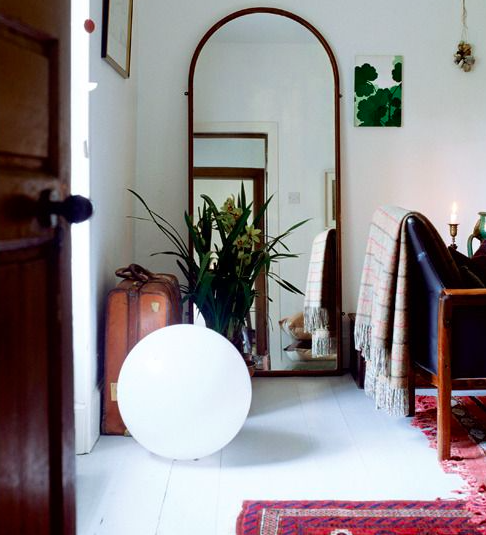 We've got a big mirror opposite our kitchen in our flat, because in the open plan space the windows are at the other end (the living room end). We're using this big mirror to bounce the light into the kitchen to avoid it getting too dingey: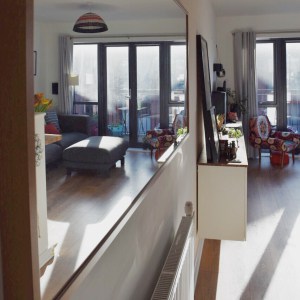 4. HIDE STUFF
Yep sorry guys…you'll want to be hiding some of your maximalist items, because too much in a small space can get a bit overpowering.
A great way to do this is to use furniture that's the same (or a similar colour to) the wall, so that it blends in seamlessly. There are a couple of great things about this: plenty of useful storage (so you don't actually have to be a tidy person, and you can hide all the stuff you haven't sorted out away), and also, it means that the things you do then display have much more impact! Plus you can swap things out often, to change the look of your room if you're easily bored like me (great if you've got a room where furniture can only be arranged in one way).
This is a fab example of a super-seamless set of cabinets in a small living room, which also incorporate a desk underneath. It's a bit minimalist for me overall but you get the idea (and it does show off the blue feature wall/door nicely too):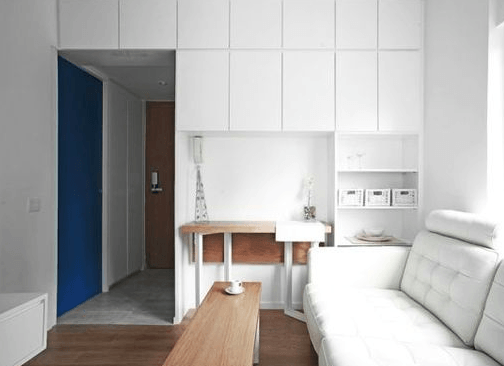 And a little bit more interestingly, this black chest of drawers is blending right into this super-cool colour scheme without sticking out like a sore thumb: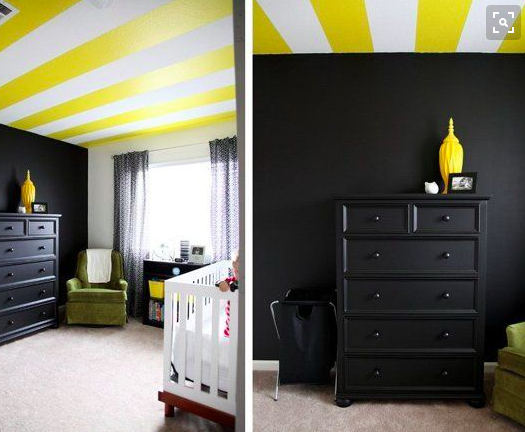 5. GO BIG OR GO HOME
This does go a bit against what you'd think for small spaces, but this tip is something that we found in our living room, where we've struggled to get things right because of windows, radiators…the usual blah that you have to work around.
We used to have a smaller sofa, a chair, bookcase and sideboard in our living room (that I'd furnished cheaply with a motley mixture of Ikea, second hand stuff and cheapie first-home things). Yeah, a right of old rubbish. It looked totally crap and cluttered. We got rid of everything and instead got a biiiiig sofa, and we built an even bigger sideboard (3.6 metres long to be exact). The result is less clutter, more tidiness and more space.
Basically, be as gutsy as you dare and don't just assume that you have to buy furniture that'd be more at home in a Borrower's house.
The same thing works for wall art or decoration – sometimes one big piece is far better than lots of little things, in a small room, as it gives much more impact visually. Like this: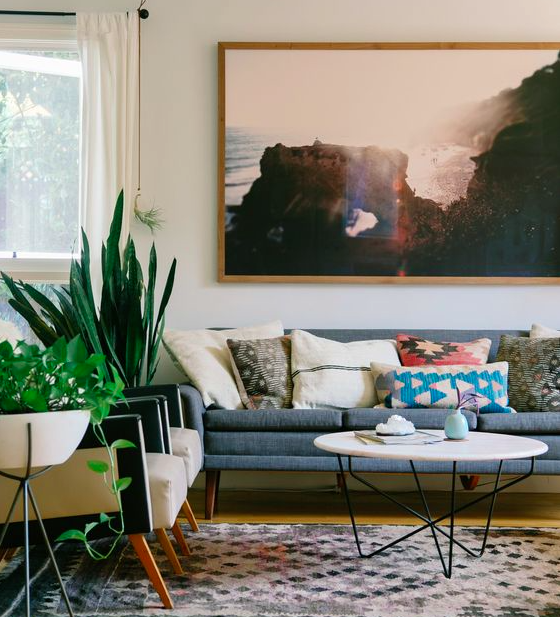 And hey, why not have wall decals? A bit statement-y which is always cool.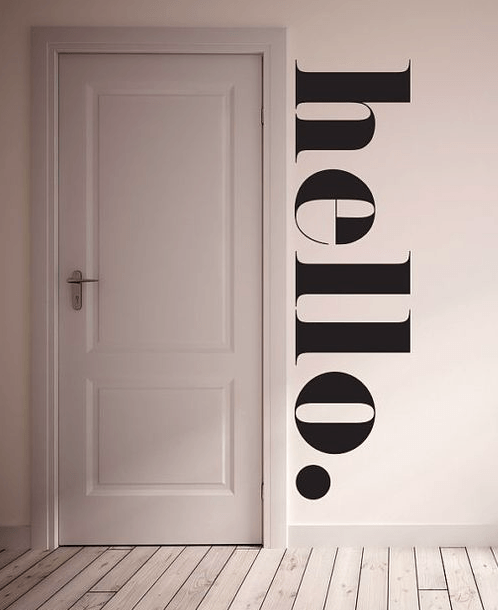 6. REPEAT, REPEAT
Repeating patterns can help to draw the eye along, provide less visual clutter and give a more uniform look. You can use this idea with open shelving, stacking up all your nicest things into a gorgeous display like a boss, with decorations like cushions, with wallpaper on a feature wall…there are so many ways.
This bookcase follows the repetition thang by using two long bookcases in the same bright yellow. The books are also arranged in a uniform way – mostly the same height, with bigger ones stacked underneath. Clever and jazzy!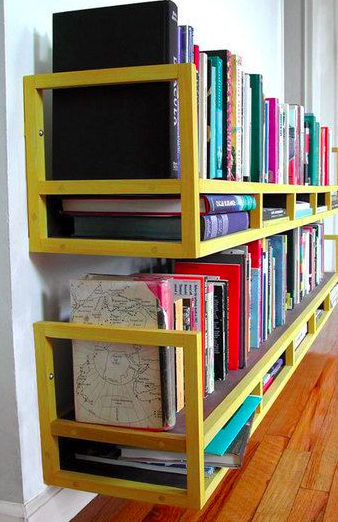 These bright vintage cabinets could be lined up along a wall (or behind a sofa even) to add a bit of colour but also provide some storage and add a little personality: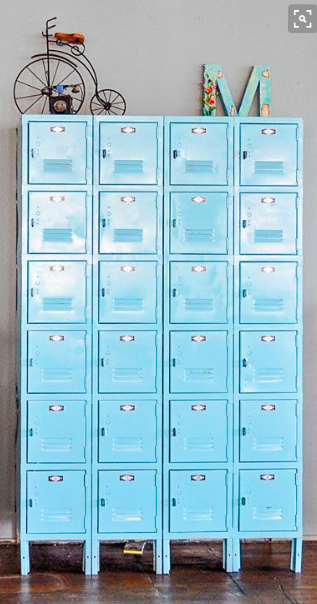 And if you have a long narrow hallway, repetition of mirrors, wall art and lighting can make the space feel more open and create some pleasing symmetry: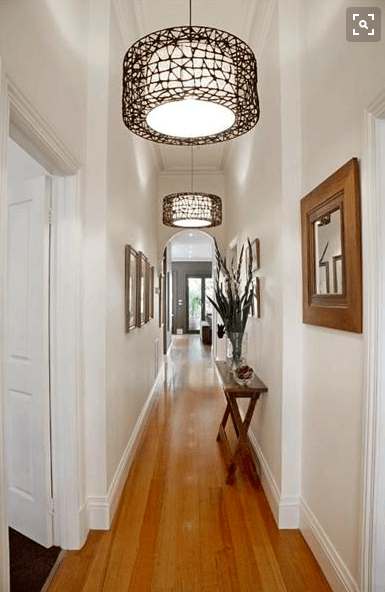 I'd love to hear if you use any other techniques to make your small space feel bigger. Any tips to share?
LIZZIE X