Go to Glastonbury?  Or keep local, stay dry, sleep in a nice warm bed?
Getting muddy at Glastonbury this weekend?  It's obviously the icon of all festivals – but there is another way.  At Pocket we like to skip the horrors of the M4, the queues for the showers, the mud up to our knees.  We like to stay local and enjoy the festival spirit a bit closer to home… with the promise of a guaranteed shower and a warm bed at the end of the day!  Wherever you live in London, there's almost certainly a festival of sorts in your local area.  They might not all be the Notting Hill Carnival, but small and intimate beats big and brash every time in our book (just like our flats!).  We've done a quick scan of all the areas where our city makers are most likely to live, and come up with this roundup of London's local festivals taking place this summer, and beyond.
North Lambeth Parish Fete & GMH Park Summer Jamboree  – June 27th 2015
There are two buzzing local bashes happening this Saturday and with the weather set to be fair, get down to south east London to soak it all up.
Start by the river in Lambeth Palace Gardens for the North Lambeth Parish Fete where there will be food stalls, a tea tent and a legendary tug of war. Then amble across to GMH Park for the annual Summer Jamboree where local residents will be hosting dog shows, a craft fair and tombola.
Alma Street Fair – 5th July 2015
Kentish Town's biggest annual street party brings together the best of this talented community, there will be dancing, DJing, baking, painting and dancing. We love the sound of the pop-up marquee and cocktail bar where you can grab a refreshing mojito after you have sampled the fine ales and beers plus the zillions of stalls, read all about it here.
Pocket's 18 homes at Willingham Terrace NW5 will be just around the corner when they launch early next year.
Streatham Festival – 4th-11th July 2015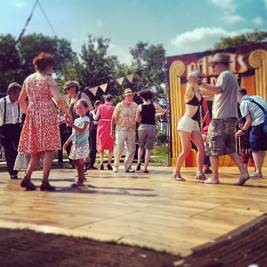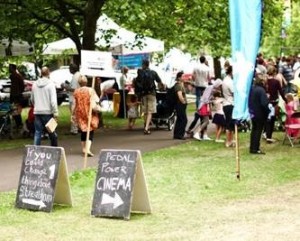 Streatham Festival's theme this year is 'Coming of Age', a celebration of local heritage. There's stuff going on all over Streatham for a whole week, including live music, comedy, films and theatre workshops.
We like the sound of the Mad Hatters Tea Party 1-5pm on Sunday 5th July 2015, which promises tap dancing with The Hot Foot Tappers and street funk with Aim High Academy, Creative Campers arts workshops and children's theatre by Anyone Everyone Theatre and Telferscot Primary School, as well as some performance poetry with VerdanaBee and Abdul Aziz.  Sounds cool!
There's also a picnic in the park 12-3pm on Saturday 11th July with live music at Streatham Vale Park. 
Check out the full programme.
Lewisham People's Day – 11th July 2015
Lewisham People's Day isn't exactly small and intimate, there are 25,000 people expected this year!  People's Day is south east London's biggest and longest running free community festival.  If you're local, it's well worth coming along to enjoy the hundreds of community, craft, food and drink stalls, and entertainment throughout the day.  No M4, no ticket shenanigans, no mud (probably).
Lambeth Country Show – 18th and 19th July 2015
Lambeth Country Show is a south London classic, boasting a unique line-up that celebrates the very best of the city and countryside.
Now in its 41st year, the show has all the attractions of a traditional country fair – horticultural shows, sheep dog & owl displays, home grown vegetables, even an on-site farm – but with distinctly urban south London vibe.  Make your way up to the biggest pumpkin contest through billowing jerk chicken stalls and pumping reggae beats!
Brixton Splash – 2nd August 2015
Brixton Splash is another big one for London, attracting over 20,000 people each year, and celebrating the cultural explosion in Brixton. This completely free festival features up and coming local musicians, art workshops, as well as delicious food stalls.
Pocket is coming to Streatham, Lewisham and Brixton in 2016 – watch this space!