Saving for a Deposit
When you're looking to buy a property, having the right amount of money for a deposit will make a big difference to the mortgages you'll be offered. Bear in mind that the bigger the deposit you can afford the better chances you have of getting a good mortgage deal.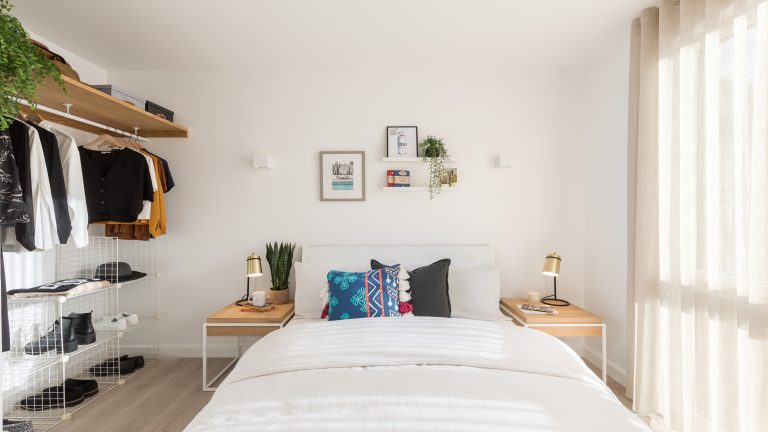 What Is a Deposit?
A deposit is a lump sum of money you will have to pay upfront towards your home. Before the lender gives you a mortgage, they'll require that you pay them a percentage of the property's value. 
Usually, you'll need a deposit of at least 5% of the value of the property. Then, you'd borrow the remaining 95% from a mortgage lender. So, for example, if you're buying a £200k property, you'll need to save up at least a £10k deposit (5% of £200k) and then borrow £190k from a lender. 
How Much Deposit Do I Need to Buy a Home?
The minimum deposit amount you'll usually need is 5%. Although it is possible to get on the ladder with a smaller deposit, there are a number of good reasons to save a larger amount if possible: 
Better mortgage deals – the bigger your deposit, the lower interest rates lenders will offer you on your mortgage.
Smaller repayments – if you have a bigger deposit, you'll have to borrow less money, which means your monthly repayments will be smaller.
Improved chances of getting a mortgage offer – having a larger deposit will make you more attractive to lenders when they conduct their affordability assessment on you. 
How Can I Save for a Deposit?
Putting money away for a deposit can be hard. So, the sooner you start the better. There are many ways you can make saving up more manageable.
Government schemes
The Government has set up a number of schemes to help first-time buyers onto the property ladder. The following saving schemes are designed to boost your deposit by giving you free money, so well worth considering:
Lifetime ISA: a LISA allows you to save up to £4,000 each tax year until you turn 50, with the government adding a monthly bonus of 25% to the amount saved.
Help to Buy ISA: this scheme is now closed to new savers. But, if you opened one before 30 November 2019 you can continue to save into your account until November 2029. The government will top any money you save into it by 25%, up to a limit of £12,000.
If buying within a year
When you're looking to buy in the short term, your choice of savings accounts will be more limited. Depending on whether you're able to make regular contributions and need access to the money at any point you could consider these options:
Regular savings accounts usually offer better interest rates but require you to commit to putting in a certain amount each month.
Easy access accounts, on the other hand, are very flexible. You can withdraw money whenever you like, but, because of this, the interest rates you earn will be much lower.
If buying in the long term
There are many more savings options available to you if you have a little longer to put your deposit together. Some to consider are:
Cash ISA – the advantage of a cash ISA (Individual Savings Account) is that you don't have to pay tax on the interest earned. But you can only pay a limited amount into it yearly.
Stocks & Shares ISA – your money is invested in stocks and shares so the return you get will depend on how well they do. They are usually recommended as a long term investment – at least 5 years – as there is a risk attached and you could make a loss. 
Fixed-rate bonds – offer a fixed interest rate on your savings for a set period of time, usually 1 to 5 years.
Current accounts – the interest rates you can get on these tend to be much better than on easy access accounts. But, you do need to have a little starting cash.
Plus, have a read of our article Savings Accounts Explained for more detail on how each of these works.
If you're looking for a helping hand
Here are some options to consider that could have an impact on the size of your deposit and allow you to get a better mortgage deal:
Buy only part of a property: if you have a small deposit, shared ownership properties might be a much more affordable option for you. With the 'Help to Buy Shared Ownership' scheme, you buy part of your property and rent the rest. So you need a much smaller deposit (5%) and you pay less for the mortgage.
The Bank of Mum and Dad (BOMAD): if your parents or grandparents are willing and able, they could make putting a deposit together so much easier for you. Giving you a (tax-free) cash gift, loaning you the money or being your guarantor are some of the ways in which they could help out.
Shared equity scheme: some house builders or the government give you an equity loan to put towards increasing the size of your deposit. Then you take out a shared equity mortgage on the rest of the value of the property. So, by making your deposit bigger, you will be improving your chances of getting a good mortgage deal. To learn more about how the government's scheme works read our Help to Buy Equity Loan article.
If you're renting
These seemingly small gestures could free up some cash to put into your savings:
You might want to consider going back home to live with your family for a short period of time.  Renting your own place can make it very hard for you to save any money at all.
You could also move into a shared house as rooms are much cheaper than renting a whole property.
You could reduce the price of your rent by being really honest about what you actually need. Are 3 bedrooms really necessary? Does living so far away from work pay off?
If you pay your rent on time every month from a bank account, consider signing up for a rent reporting service like CreditLadder. This will help improve your credit score, which in the long run will save you money when you apply for a mortgage.
As you can see, saving up a larger deposit has its benefits but, in the current market, it can be a real struggle for many first-time buyers. The good news is that there are a number of savings products and schemes designed to help you.
For a full breakdown of all the other costs you'll need to save up for, don't forget to check out our article on True Costs of Buying a Home.