It's unusual for a building to have a matching set of mugs.  Then again, Mapleton Crescent SW18 isn't your typical building.  Tall, green and slender, its façade will shimmer with bespoke green-glazed terracotta tiles.  These tiles were designed with the help of Loraine Rutt, our consultant ceramicist, working closely with architects Metropolitan Workshop.
Loraine is a fine art ceramicist and we spoke to her to find out more about her involvement in the project – and why she was inspired to make a limited range of mugs to celebrate the building.
"When architects Metropolitan Workshop proposed a terracotta façade for Mapleton Crescent SW18, they asked me to advise on creating a glaze that would feel 'handmade', rather than factory-produced, bringing a human scale to this tall building.  They wanted to give life and movement to the building that would catch the eye of locals and residents, and continue looking good with minimal maintenance."

Loraine has always had a keen interest in architectural ceramics, and is a mine of information on their history.  She is also a proud Londoner, and by sheer chance has a strong connection with the heart of Wandsworth, where Mapleton Crescent SW18 is located.  Her grandfather worked opposite the site and her grandmother still lives in the area, her parents were married in Wandsworth registry office!
These days she spends most of her time on her stunning map projects, one of which focuses on the inequality in housing across London.  This is another extraordinary coincidence, given Pocket Living's background in affordable first time buyer housing.
"I really believe in what Pocket Living is trying to do, providing homes for Londoners and allowing communities to stay together.  It was a privilege to work with the team at Met Workshop, who came to me with an idea and were looking for ways to create something really special."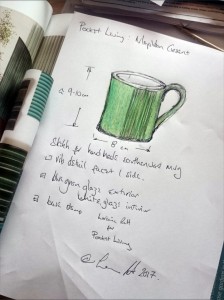 As a result of her generosity and her belief in Pocket Living and the beautiful Mapleton Crescent SW18 scheme, Loraine was inspired to create some one-off mugs for us to mark her involvement. She started with the green glaze that had been at the heart of conversations, and made an imprint to emulate the texture of the Mapleton Crescent SW18 tiles.  After doing some tests on sizes and shapes for the mould, it was down to the painstaking working of forming each individual mug and applying the handles – every one of these has a discrete mark at the bottom to reflect Pocket's own brand logo.
Finally, they went into the kiln for drying and first bake, before Loraine applied the glazing and they had their second firing.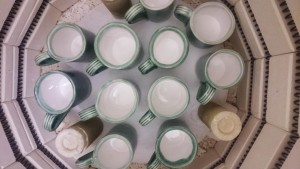 We'll be serving tea and coffee in these bespoke Mapleton mugs at our sales suite at the foot of Mapleton Crescent SW18, Pocket Living's first development in the London Borough of Wandsworth, which will provide 53 affordable one bedroom Pocket homes and 36 two and three bedroom open market Pocket Edition homes.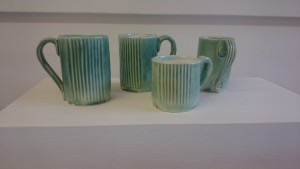 Sales are launching imminently, with the scheme scheduled to complete in Summer 2018.  Make an appointment to visit our sales suite, experience the new homes in our virtual reality experience, and let us serve you a coffee in one of these hand-glazed mugs.
Register your interest in affordable Pocket homes here, and Pocket Edition open market homes here.